And stop feeling like your life is spinning out of control with your never ending to-do list! 
If you are tired of feeling busy, or like you aren't making any real progress towards your goals or never-ending todo list, then it is time to Get Sh*t Done! I will give you 5 simple, but life-changing tools to not only save your time, but sanity to help you discover how you can get into your unique flow.  
Imagine how amazing it will feel to not be stressed, tackle your days with ease, and know exactly what you need to do to reach your goals!
We start by diving into what your unique type of genius is and what it means in relation to how you do things, communicate, how you feel valued, and how you earn money!  You'll be amazed how your life looks when the clouds of overwhelm clear. 
The best part about this is that these tools I walk you through aren't hard.  They are simple and you can learn them today and integrate them today so that your tomorrows are freer, happier, and more productive so you can live this life and have the energy and excitement along the way.  How does that sound??  Great?! YES OR YES??
Tell me if this sounds like you…
You feel like there is no extra time for you and the things that really light up your soul.
You push snooze on your alarm clock daily because you know there is a never ending to-do list waiting for you, personally and professionally.  
You have goals that in your soul you know they would light you up and change your life but with every day they seem to be getting farther away as you drown in commitments.
Your business has plateaued and is running you ragged.  You are working so hard but feel like you are hardly making any traction. 
You have begun to feel like you can't do it all and feel like giving up. 
You feel like the light at the end of the tunnel is getting smaller and smaller because you can't seem to figure out what things will move you forward and which ones are just keeping you buried. 
Or, maybe you believe the lie that you have to non stop hustle to get ahead.
What if I told you there was another way?
Well, I have great news!  There is another way! I don't believe you have to walk around like an exhausted pigeon every day and I certainly don't think you need to grind yourself to the bone to get to your goals, you simply need some tools and tactics that can help you create leverage! 
If you are asking me how I know this for certain, let me share a little story with you. 
It was about 5 years ago and I was exhausted.  I had had my business, Golden Key Partnership, for 4 years and we were profitable but it was killing me.  I felt like there were not enough hours in the day to deliver world-class value to my clients, find new clients to help, not to mention have any sort of life outside my business.  I was burned out.  Ever been there? Yeah, it sucks doesn't it?
So I got mad.  Mad that I was spinning my wheels and getting no where.  I got made that if I kept doing the same stuff I was doing today, my business would be in the same place again next year, god forbid worse, so I got busy.  Not busy with stuff, I got busy with becoming obsessed with finding the best of the best tools and tactics in productivity.  I revisited my work with Tony Robbins from several years before, I learned from the other greats in productivity like Darren Hardy and Insane Productivity and Todd Herman with 90DayYear and read 10+ books on the subject.  I was determined to find a way out of this eddy of inefficiency.   And it worked! … for a second…
The reason I say it worked for a second is that after all that learning, I was back to being overwhelmed.  I have hundreds of hours of knowledge and there was no way I could implement everything they suggested.  Partially because some of the things were not relevant to me or my business, and partially because there was just TOO MUCH!
So I did what any good business strategist would do, I weeded out the good from the great and distilled down those hundred plus hours of learning into what I found to be the 5 most impactful tools and tactics to help me be more productive, impactful, sane, and happy.  Those tactics are what I am SO excited to share with you in this program. 
These are the same tools and tactics that are part of my highly sought after Strategy Made Simple consulting services.  I have been teaching these 5 tactics to clients for years who have implemented them and transformed not only their lives but their bottom lines to the tune of hundreds of thousands of dollars! 
I designed this to be something you can learn in a weekend and implement immediately.  I don't believe you should have to wait on me to start quantum leaping towards your goals! 
If you are ready to get sh*t done and show your days who's boss… let's do this! 
Snag your spot today, space is limited.
Now, let's cut to the chase, because I know you probably want the nitty-gritty specifics, right?
This program is an intimate & interactive virtual live workshop designed to help you understand what is stopping you from getting to your goals, what is derailing your progress, and finally feel equipped to get through your day and feel accomplished and ready to tackle anything!
✔️Implementation workbook to help you learn these tools and tactics and implement them successfully moving forward.
✔️ Online Group for support & long term success
✔️  BONUS: Wealth Mastery ($97 value) to help you uncover what your unique genius is as well as how you can best achieve wealth, communicate with others, and thrive.
✔️ BONUS: Ultimate Success Formula.  Imagine if you knew the exact recipe to follow to make your goals come to life and reach success faster.  Well now you do! This formula is time tested to work every. single. time.  Let's do this!
✔️ BONUS: Midas Mindset.  Uncover the mindset tactics that will literally help you turn everything you touch to gold and achieve your goals much more simply and easily! BOOM!
✔️ BONUS: Top Tools to Save Your Time & Sanity!  A comprehensive list of the best tools I have found to help you get sh*t done and kick butt while doing it!
---
With the continuous changes to our busy lives, it can be daunting, but the opportunity to get ahead, connect and grow your business  has never been greater, but so many Entrepreneurs are buried under the heavy burden of things to do…until now!
Get Sh*t Done is a paint-by-numbers group program built on my years of experience in strategy and productivity to help you find the gold in your goals.
When you know what is keeping you from making a bigger impact, making progress and living a happier and more fulfilled life, there is not much else standing in your way of achieving everything you want.
(your business, your family, your friends, and your bottom line will thank you.)
It's all about having a plan, sifting through the bs and kissing overwhelm, frustration, and your wasting precious time goodbye!
This is how you can finally get off that hamster wheel and see the fruits of your labor!
Whether you are an entrepreneur or simply someone who wants to get more bang for her buck with the hours in the day, Get Sh*t Done Will Help You:
All while fitting it in your existing life simply and easily!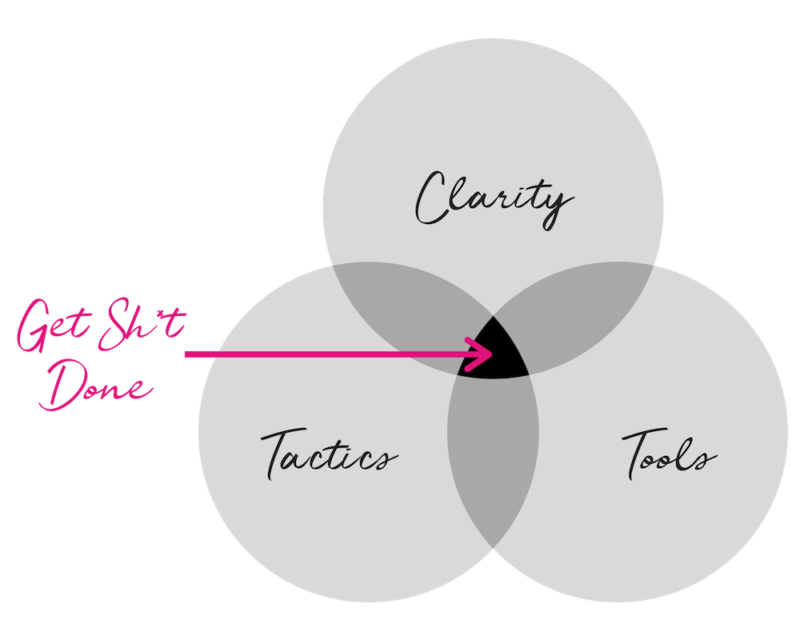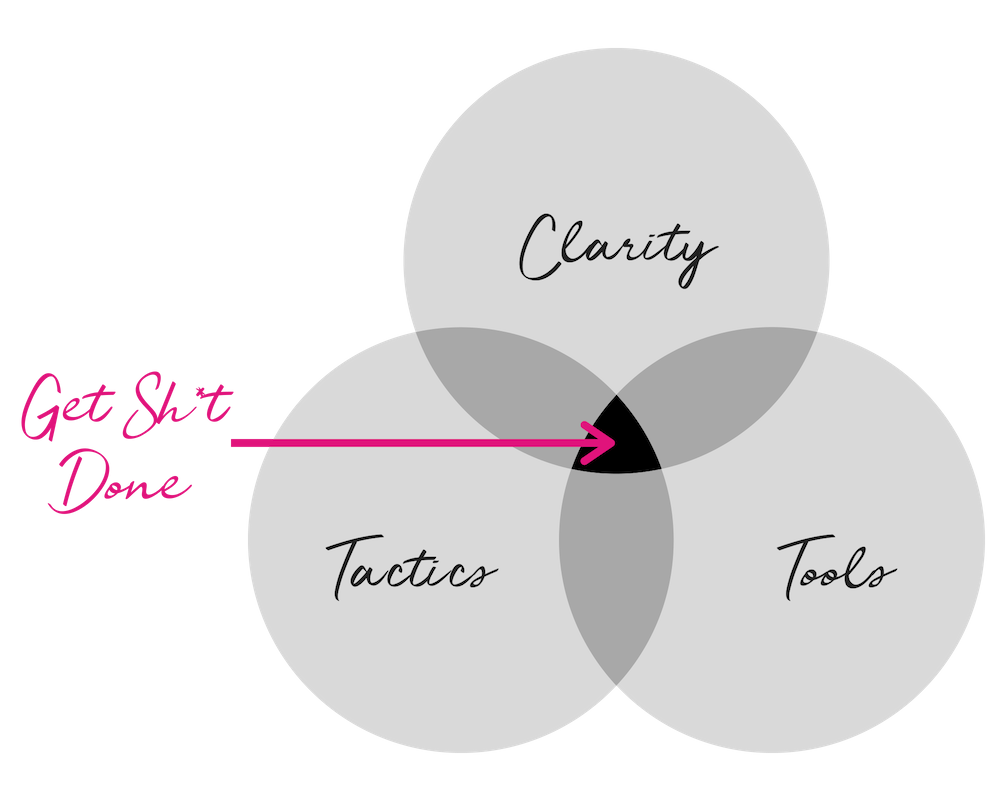 What to expect once you say YES!
Once you click on one of the snazzy buttons, and decide to take control of the things running your life, you'll get an email from your truly with your workbook, the link to our virtual classroom, and your wealth dynamics test.
There's a smidge of pre-work before we meet face to face but nothing that will take you more than 30 minutes
Then we meet on Sunday, get you plugged right in and kicked off – BOOM! Easy Peasy!
I will see you (literally but virtually) in the group and on zoom and we will do this thing!
It's time to invest in yourself!
Pricing something that has helped business generate hundreds of thousands in revenue is always a daunting task. 
While my 1-1 clients pay top dollar and I love working hand-in-hand with them, I wanted to help more more people like you (and if I don't mind saying, I miss the group camaraderie!) so I pulled GSD out of Strategy Made Simple as a gift to you and the world.
You can dive right into the group and harness all I have in store for you, or if you want a bit more support then you can do the group mastermind and have a 1-1 call with yours truly.
So what do you say?  Are you ready to Get Sh*t Done??
Snag your spot, space is limited.
Meet Your Productivity Partner
In case you're brand new around here, HI! I'm Lauren Goldstein, and I am a business growth strategist. I help entrepreneurs just like you, make things simple so you can grow!
I have been helping businesses make strategy and online simple for close to 10 years. There is nothing I love more than taking the complex parts of a business, which may seem disconnected, and turning them into a synergistic and well oiled machine that you can now leverage effectively.
Together I help you ditch the overwhelm & analysis paralysis that accompanies growing a business by walking you through our time tested Strategy Made Simple framework. This framework makes it simple for you to understand exactly what your business need to *gasp* see more revenue, profits, impact, and success (not to mention build a sustainable business that scales smart)!
I'm also a three-time entrepreneur with both local and online businesses, so needless to say, this isn't my first rodeo. I've successfully used the exact same strategies I walk through with my clients and myself – I don't just talk the talk, I walk the walk right alongside you!
Collectively I have helped dozens of businesses double revenue, 3x profits, expand their impact and bring in over $1 million dollars in revenue from the strategy and productivity we create together.
While I can't guarantee those results (that's on you to do the work), I can attest that this framework delivers results to get back your time, get more sh*t done that matter, and, heck, we even get to have a lot of fun along the way!
We've got answers! Here are our most common questions.
p.s. This is it! It's YOUR time!
It's time to decide that you are worth it and that you can reclaim your time!! What are you waiting for?
Stop watching other people have success, and start getting your sh*t done so you can have a bigger impact and helping the world around you with your own unique gifts.
As they say, if you do nothing, nothing will change.
But if you're ready to master your day, your time, and your goals, this step-by-step mastermind will show you exactly how to do it.
There's no better time then now.
No more overwhelm, avoiding, shame, stress… all the information and help you need is here, ready and waiting for you…
You can do this! I am beyond excited to welcome you to Get Sh*t Done and help you come back to life!