WELCOME TO GOLDEN KEY PARTNERSHIP
Hi. I'm Lauren.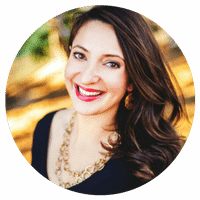 Some may think I'm a maverick leader, a problem slayer, or an innovation and growth junkie.
The truth is, I'm all three and what I love most is bridging the gap between the brain and success. The intersection of neuroscience and strategy is my happy place.
When I started my entrepreneurial journey 6+ years ago, I did what probably every other newbie does… I created a website, felt on top of the world, and waited for the leads to come to momma.
But I soon realized nobody could find it and no one was converting.
I tried social media… "That's what I need! I'll learn how to drive traffic." I created fun & inspirational Facebook posts. I tweeted, I instagrammed, I became contributors to huge publications like HuffPost, Glass Heel, and even co-authored a book!
This was an electrifying time.
But if I'm honest, it was also really EXHAUSTING and confusing because I was driving some traffic but failing to get customers.
The hundreds of articles, books, and classes I was devouring like thanksgiving dinner said I needed to do more. MORE blogging, MORE SEO, MORE viral campaigns.
I did all that and spread myself flat Stanley thin. Yet the needle wasn't moving except on my bathroom scale.
I had NO idea my website was my problem.
I mean, I had already checked that box on my to do list, "Launch website".
MARKETING was supposed to help me grow my business. But I had this nagging feeling something wasn't right. My website was this 'black hole' that I knew very little about.
So I stopped spinning my 15 different spinning plates of marketing and instead focused on my website and hidden tweaks to help me work smarter, not harder and make a bigger impact.
I was hungry to know… "WHY are people not doing what I want them to?" The only solution was to get data about my visitors. Not just numbers, I needed pictures. I needed videos. I had to SEE what was going on.
And you know what, I'm a data-head, but the thought of figuring out how to get data on my own website was overwhelming. Where do I even start?
Google Analytics is my favorite for sure. But after copy/pasting the Javascript, I still wanted more!
Well fast forward a bit and I figured it out… it's actually not that hard if you know where to look! I added a couple of tools and learned some new techniques and got that juicy data flowing.
So now when I invest time and money into marketing, it's so much more fruitful because I can tune in and learn what is and isn't working. The best part is now it isn't just my website, it is my whole online presence that I have fine tuned for maximum impact! My website is my superpower, but sharing my knowledge and making it simple for you is my passion.
You can do it too – okay let's be real, I get to help you cut the learning curve in half, have the tools and support you need, and help you rock it out!
But I know there's no one-size-fits all solution so before I can teach, help me understand what you need…
What Do You Need Help With?



Simplify & Grow
Together we can help you get exactly where you want to go!