Entrepreneurs are notorious for being idea generators and struggling to prioritizing their time to get things across the finish line. In today's fast paced world with so much vying for our time, it is easy to get distracted and off track, but if you want to be successful, you have to get good at prioritizing and managing your day – otherwise it will run you over every chance it can! 
If you don't schedule and prioritize your time you will end up running around like a chicken with your head cut off, putting out fire after fire as they pop up, and never getting to the tasks that actually move your business forward. That's no way to run a successful business. The key to success is recognizing that we all have the same number of hours in the day, we just use our time more efficiently…. here's how.
One of the tools that works for me is the Eisenhower Matrix.
This matrix helps me decide what absolutely needs to happen each day by putting each task into one of four categories:
DO – Urgent and Important
DEFER – Not Urgent and Important
DELEGATE – Urgent and Unimportant
DELETE – Not Urgent and Unimportant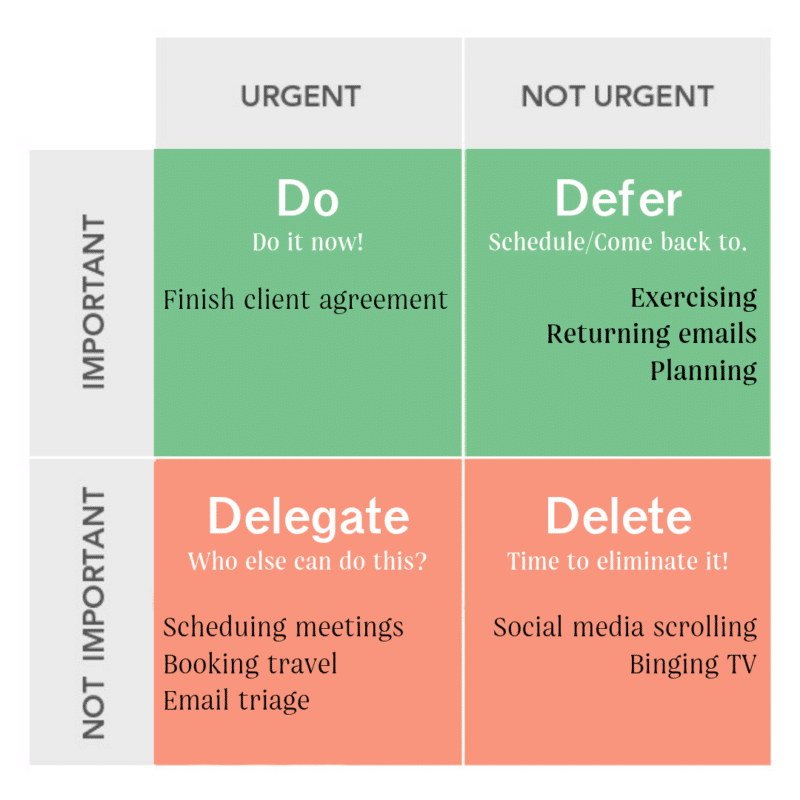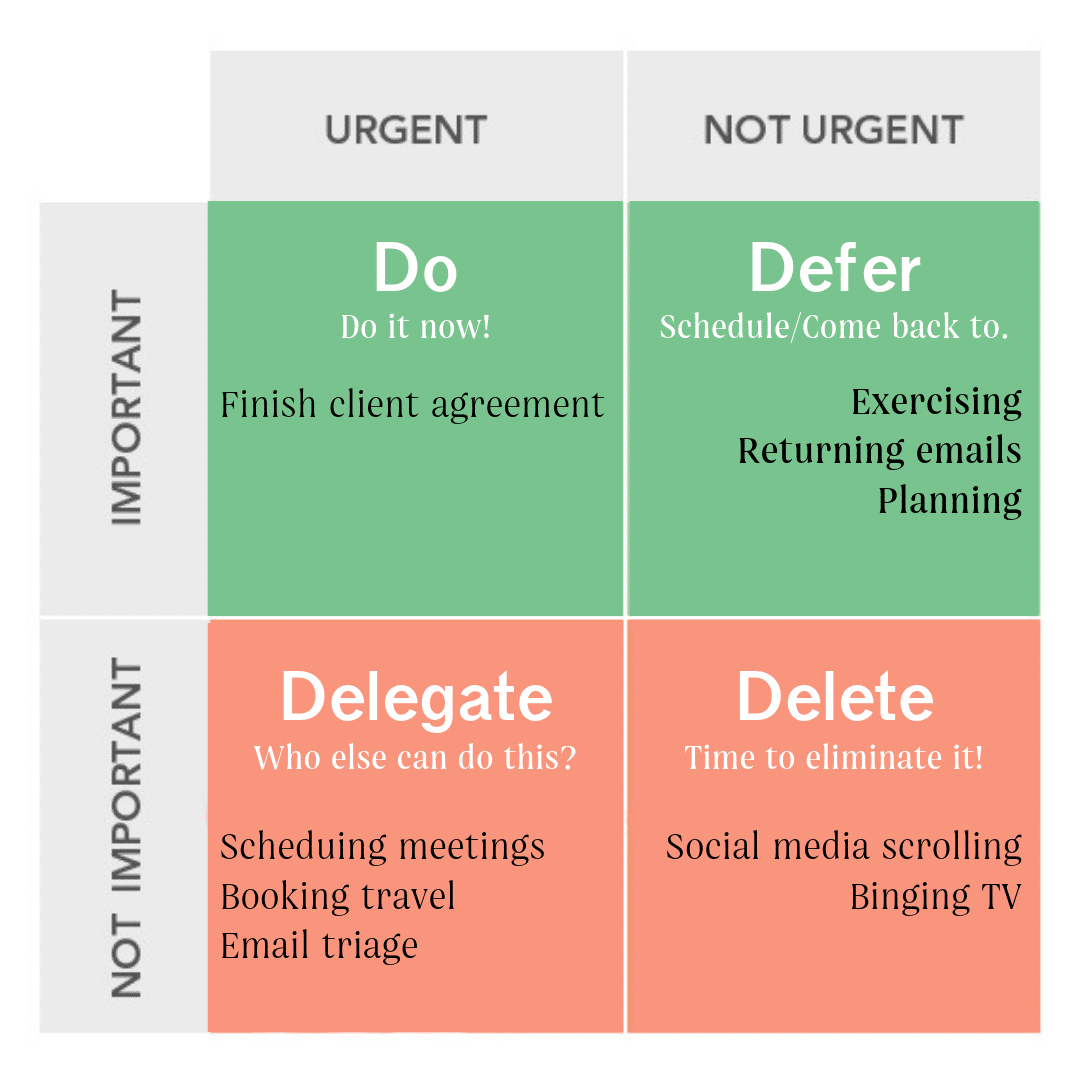 Obviously urgent, important tasks must get done immediately. For me these most often take the form of client contracts, client work that has a set deadline, or specific sales followups from my speaking events. These are tasks that directly contribute to the revenue of my business. They are also tasks that only I can do.
Not urgent and important tasks are not time sensitive, but are important either to me or my business. These are things like working out, website updates, responding to emails, or being with my loved ones. Each of those are very important to me and the life of my business, but not urgent in general. 
Urgent and unimportant tasks are time sensitive tasks that do not contribute directly to the revenue of my business, such as booking travel or scheduling meetings. These things need to happen by a certain time, but my business will not immediately suffer if I defer them for a bit or delegate them to someone else.
And finally not urgent, unimportant tasks are things that you don't need to be spending your time on. For me this list includes things like, scrolling social media, watching TV. Things that would be nice to do every now and again, but don't contribute to my business in any way and generally end up with me down the rabbit hole of the internet.
So how do you implement this simple yet SO effective habit in your day? 
Simple! Each evening I plan out my following day by making a giant list of all that needs to get done.  From calling my family back all the way to client work.  Once I have it all laid out, I look at my to-do list and sort each item into one of these four categories. Then I get to work to DO, DEFER, DELEGATE, OR DELETE! Then I do sprints of related tasks until I have either worked through everything or it is time to call it a day.  Anything that doesn't get done that day get's examined and re-categorized for tomorrow.   Pro tip: If something is always falling in the defer category for more than 2 days, chances are it either needs to get deleted or off your plate and onto someone else's!  
Trust me, this might sound like a huge pain in the a** at first, but it will get easier with time and save you a heck of a lot of time and sanity in the long run! 
Comment below your wins from bringing the matrix into your life and business!